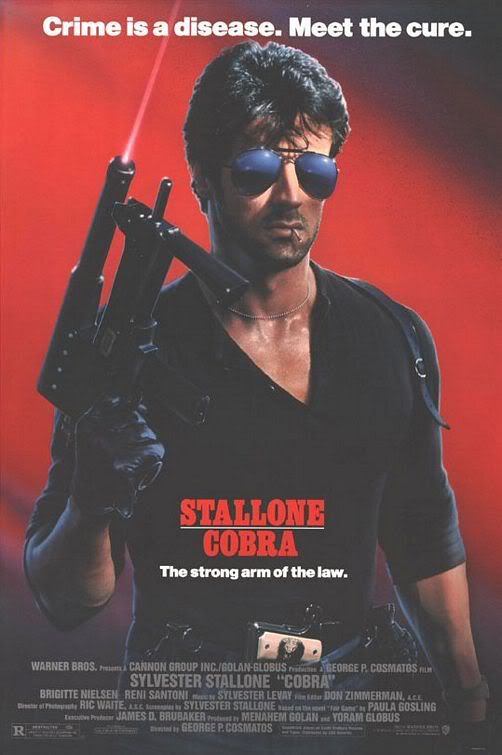 Cobra (George P. Cosmatos,1986)
Sylvester Stallone, a cult of serial killers, a sidekick named Gonzalez. This is one amazing film. Lieutenant Marion 'Cobra' Cobretti (Stallone) is on the hunt to track down the insane criminals that are committing random acts of violence. Cobra then meets up with a witness who quickly becomes the new target of the mass murderers. He has to take her to a safe house and make sure she gets out alive because she is the only person who has gotten a glimpse of who might be running this "cult" of criminals.
The film sounds like a throw away plot and it actually is but what this film contains is just a truly great action film that also ventures into a bit of horror. Stallone was also the writer of this film and you can tell he loved writing every single second of it. He knew he was writing an all out action film but knew that he can also throw in some character for Marion Cobretti which is a relief to most of the action films coming out around this time. Cobretti isn't a bad ass at all, he made himself out to be a bad ass. His birth name is "Marion" and he thought it wasn't manly enough so he changed it to "Cobra". It's just great to see a character that seems real while still blowing things up, setting people on fire and shooting women. Cobretti is awkward with women and tells horrible jokes. He is a cop with a heart that cares for the people he's protecting but to bad because that heart is laced with barbed wire. One false move and this man will kill you five times over.
The film is non stop action from beginning to end. It has an amazing car chase at the mid point of the film. A great all out attack scene schemed out by the cult on Cobra, the witness and his partner Gonzalez. A climax that will leave you shocked from how much action you just received in the amount of time and a line about Gummy Bears.
I've always been a Stallone fan, I'll watch anything he's in. I grew up with this guy, i even own "Eye see you". Come on, how many of you can actually say you even heard about that movie. Stallone does a great job with this character and the action scenes are amazing like I've said before.
I'm going to have to go out and actually say this is my favorite Stallone film. For me it beats out Rambo, i can see why people would favor Rambo over Cobra but for me this is just a better film. People would be turned off by this film because of the "cheesy" soundtrack and type of wardrobe some of the characters have while Rambo is all decked out in camouflage and has a score instead of songs with that would also fit on the "Flashdance" soundtrack. Please don't let that take away from the film, it's actually really cool to see that preserved in a film like this.
Grade A